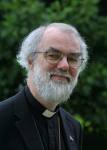 The Archbishop of Canterbury warned yesterday that damaging infighting over women bishops and gay priests could result in a permanent split in the Anglican Communion.
Dr Rowan Williams stressed that he did not "want or relish" the prospect of division. He called on the Church of England and Anglicans worldwide to step back from a "betrayal" of God's mission and to put the work of Christ before schism.
But he conceded that, unless Anglicans could find a way to live with their differences over women bishops and homosexual ordination, the Church would change shape and become a multi-tier communion of different levels — a schism in all but name.
In an historic and wide-ranging address to the General Synod — the Church of England's parliament — he linked his Church's divisions to similar battles in the secular world, such as the assisted-dying debate and the Equality Bill that is currently going through Parliament.
Referring to the unity document currently being developed as a way of finding a common doctrine, Dr Williams admitted: "It may be that the covenant creates a situation in which there are different levels of relationship between those claiming the name of Anglican. I don't at all want or relish this, but suspect that, without a major change of heart all round, it may be an unavoidable aspect of limiting the damage we are already doing to ourselves."
In such a structure, some churches would be given full membership of the Anglican Communion, with others on an outside, lower-level track with only observer status on some issues.
Dr Williams also used his keynote address to issue a profound apology for the way that he has spoken about "exemplary and sacrificial" gay Anglican priests in the past.
"There are ways of speaking about the question that seem to ignore these human realities or to undervalue them," he said. "I have been criticised for doing just this, and I am profoundly sorry for the carelessness that could give such an impression."
In a reference to the legal battles that have followed the ordination of the openly gay bishop Gene Robinson in the US, he condemned "the reduction of Christian relationships to vicious polemic and stony-faced litigation". He made it clear that there was blame on all sides, which has brought the Church to the brink of schism, and pleaded for Anglicans battling over gays and women bishops to stop fighting, admitting that he and other bishops might have to settle for a two-tier communion if it is to survive at all.
The address was strongly applauded on the floor of the synod and is being regarded as an historic intervention that will help to point a way forward for the embattled Church. While no one believes that it will be easy, Dr Williams's exhortation to Anglicans to put their common faith before their differences and his clear understanding of both sides of the argument led to new hopes that the Anglican Communion might have a future.
The Archbishop also intervened in the assisted-dying debate. He linked the Church's rows over ethical issues with those taking place in wider society, such as euthanasia and the Equality Bill. Granting a legal right to die is a "moral mistake" and crosses a boundary into dangerous territory, he warned.
Keir Starmer, QC, the Director of Public Prosecutions, is expected to issue guidance soon to clarify the law on assisted suicide. Dr Williams said that the current state of the law, with its discretionary powers and nuances about "degrees of culpability" in extreme cases, served the public better than an "opening of the door" into provision for the legal ending of lives.
He said that no synod members would be unmoved by some of the "agonising" cases that have been in the public eye recently. But he added: "Most of us here, I suspect, would say that the balance of liberties still comes out against a new legal framework, and in favour of holding to the principle — not that life should be prolonged at all costs, but that the legal initiating of a process whose sole or main purpose is to end life is again to cross a moral boundary and to enter some very dangerous territory in practical terms."
He added that the Church did not assume it had a right to impose a solution on the public, but it would argue fiercely that granting a "right to die" was not only a "moral mistake" but the upsetting of a balance of freedoms. "The freedom of one person to utilise in full consciousness a legal provision for assisted suicide brings with it a risk to the freedom of others not to be manipulated or harassed or simply demoralised when in a weakened condition," he said.
"Once the possibility is there, it will not only be utilised by the smallish number of high-profile hard cases but will also create an ethical framework in which the worthwhileness of some lives is undermined by the legal expression of what feels like public impatience with protracted dying and 'unproductive' lives."
The Rev Stephen Trott, a synod member and a Church Commissioner, told The Times: "This was an historic speech which I hope will heal the divisions by pointing the way to a method of reconciliation which takes account of the genuine diversity within the Church."
The Rev Rod Thomas, of the evangelical group Reform, said that the Archbishop had made it clear that people should not pursue changes in church doctrine that "unchurch" their opponents. He warned: "At the moment the Church is set on a course of action that will exclude traditionalists and evangelicals."
Christina Rees, of the pro-women's ordination group Watch, said: "The question is, how can we go forward with as much unity as possible in a context where we have decided we are going to have women bishops?"
by Ruth Gledhill
February 10, 2010
Who's who in the Church
Church of England Mother Church of the Anglican Communion
General Synod Church of England's governing body, Britain's only other law-making body outside Parliament. Its measures are law
The Episcopal Church One of 38 "provinces" in the Anglican Communion, the official Anglican body in the US, with one gay bishop, Gene Robinson, and potentially another, Canon Mary Glasspool, due to be consecrated in May. Has a woman bishop, Katharine Jefferts Schori, as primate
Anglican Church in North America Biblically orthodox Church formed by breakaway bishops, priests and laity from the Episcopal Church
Anglican Mainstream International evangelical lobbying group
Reform Conservative evangelical grouping within the C of E
Watch The successor to the Movement for the Ordination of Women, lobby group for women bishops
Fulcrum Centrist evangelical group in England, represents evangelicals willing to stay in the same Church as liberals
Inclusive Church Advocates full inclusion of women and gays