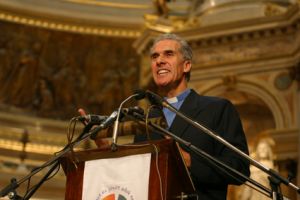 Alpha Course pioneer of the Anglican Church of England, Reverend Nicky Gumbel, spoke to a Roman Catholic audience of 1,500 people, including several Cardinals, in St Stephen's Basilica, Budapest, on Friday, September 21, 2007.
He gave, as reported by "Alpha Friends," a keynote address on 'Hope' at the International Congress for the New Evangelisation, led by the archbishops of five European cities – Vienna, Paris, Lisbon, Brussels and Budapest.
Roman Catholic Congress
The talk was also heard by Cardinal Camillo Ruini, general high reverend of the Archdiocese of Rome, who was in Budapest as the special envoy of Pope Benedict XVI. Nicky Gumbel was the only non-Catholic to be invited to deliver a keynote address at the Congress.
Once again, Alpha Course was described as 'the most widely spread form of evangelisation' which has "been especially fruitful in the Catholic Church."