Details of Pope Benedict's first UK visit confirmed (Tuesday, March 16) by Buckingham Palace
Pope Benedict XVI will travel to Scotland, hold two public masses and meet the Queen in the Vatican's first official papal visit to Britain.
Buckingham Palace confirmed details today of the first official visit to Britain of a pope, which will see Benedict XVI celebrate two public masses, meet the Queen and move a 19th century theologian closer to sainthood in a ceremony at Coventry airport.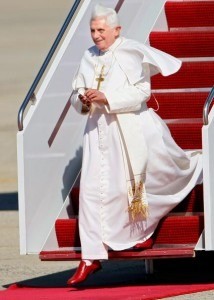 The pope, due to visit in September, will travel to Scotland and England during his four-day trip, taking in Edinburgh, Glasgow, Coventry and London.
He will follow in the footsteps of his predecessor John Paul II, who visited the country on a pastoral trip in 1982, by celebrating mass in Bellahouston Park, Glasgow.
The pope will also lead the beatification ceremony at Coventry airport of Cardinal John Henry Newman, who is likely to become the first Englishman since the 17th century to be made a saint and the first British, non-martyred saint since St John Twenge in 1379. Popes normally instruct beatifications to be carried out at a local level but the pontiff has made no secret of his admiration for Newman, who is variously described as a "towering figure" and the most famous Anglican to convert to Catholicism – at least until Tony Blair. At a Foreign Office briefing the Scotland secretary, Jim Murphy, welcomed the visit, describing it as a "truly unique event".
Following the Scottish leg of the tour, which includes an audience with the Queen at the Palace of Holyroodhouse, and the Coventry event, the pope will travel to London for a lecture on civil society and a potentially awkward meeting with the Archbishop of Canterbury at Lambeth Palace.
Relations between the two buckled last year when the pope created a special wing in the Catholic church for traditionalist Anglicans disaffected with greater inclusion of gay and female clergy, by allowing them to convert while retaining Anglican aspects of worship.
Dr Rowan Williams received no notice of the papal plan and was only informed of the development a fortnight before a press conference to announce it, where he looked visibly uncomfortable.
Please click here to read full article.
www.guardian.co.uk