Senior staff running a faith charity set up by Tony Blair are being rewarded with salaries of up to £120,000.
The salary details are included in the annual report and accounts lodged with Companies House last week.  The accounts show two members of staff earned between £110,000 and £120,000, another earned between £100,000 and £110,000 and a fourth received between £70,000 and £80,000.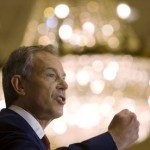 In all, the Tony Blair Faith Foundation employs 12 staff and managed to raise more than £3.5 million in the 12 months to April 2009.
Mr Blair set up his Faith Foundation in the months after ending his term as Prime Minister, quickly employing Ms Ruth Turner, the daughter of a divinity professor at Yale University, as its chief executive.
Mr Blair is the charity's patron while the board overseeing its running is made up of independent trustees.
Ms Turner, 39, who was arrested as part of the cash for peerages inquiry but was never charged with any offence, has experience running charities.
Before taking up her job as Mr Blair's head of government relations in 2005, she co-founded and ran the Big Issue in the North, the magazine which is sold by the homeless.
According to the accounts, the foundation raised £3.6m in its first year and almost the same sum in the 12 months to April 2009. It has spent £2.3 million on charitable activities, leaving it with about £4 million in cash at the bank.
Expenditure is concentrated around a series of projects including an interfaith academic programme and educational projects for children.
The spokesman said that rather than employ a large staff, the decision had been taken to employ a small number of "exceptionally qualified and capable senior staff" who could build up complex global partnerships and work through local organisations.
Please click here to read full article.
www.telegraph.co.uk