Former prime minister builds network of Christian allies as he prepares to launch a religious 'offensive' in North America
Tony Blair is preparing to launch a "faith offensive" across the United States over the next year, after building up relationships with a network of influential religious leaders and faith organisations.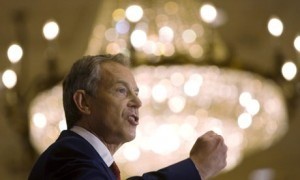 With Afghanistan and Iraq casting a shadow over his popularity at home in Britain, Blair's focus has increasingly shifted across the Atlantic, to where the nexus of faith and power is immutable and he is feted like a rock star.
According to the annual accounts of the Tony Blair Faith Foundation, a UK-based charity that promotes cohesion between the major faiths, the foundation is to develop a US arm that will pursue a host of faith-based projects. The accounts show that his foundation has an impressive – and, in at least one case, controversial – set of faith contacts. Sitting on some £4.5m in funds as of April last year, mostly gathered through donations, it is now well placed to make its voice heard.
The foundation's advisory council of religious leaders includes Rick Warren, powerful founder of the California-based Saddleback church. It attracts congregations of nearly 20,000 and is reportedly one of the largest in the US. Warren, who has addressed the UN and the World Economic Forum in Davos, has been named one of the "15 world leaders who matter most" and one of the "100 most influential people in the world".
His influence was confirmed in December 2008 when Barack Obama chose him to give the invocation at his presidential inauguration. But the decision angered many liberals, who see Warren as an opponent of gay rights and abortion on demand; a prominent alliance with Warren is likely to attract similar attacks on the former British prime minister.
Also on the council is David Coffey, president of the Baptist World Alliance (BWA), a Virginia-based network of churches that spans the globe and is particularly active in the US.
Another initiative has been to team up with the Belinda Stronach Foundation in Toronto. Unknown in the UK, Stronach, daughter of a Canadian billionaire, is hugely influential in Canada where as a philanthropist, businesswoman and former politician she has served in both the Conservative and Liberal parties. Attractive and barely into her 40s, media commentators have dubbed her "bubba's blonde", a reference to her friendship with Bill Clinton.
According to the accounts, Blair intends to open an office in Toronto to develop the relationship.
His desire for North America to be the focus of his faith-based operations was confirmed by the decision to hold his foundation's inaugural event in May 2008 in New York, for the "charity's key partners and religious stakeholders".
Tony Blair Faith Foundation:
May 2008 – Launches the Tony Blair Faith Foundation in New York.
September 2008 – Opens a three-year programme at Yale exploring the role of faith in the modern era.
October 2008 – Supports Face to Faith programme, a pilot project for schools in the US, Canada and India.
December 2008 – Teams up with the Belinda Stronach Foundation in Toronto.
February 2009 – Speaks at the National Prayer Breakfast in Washington.
March 2009 – Helps to open a Baptist World Alliance centre in Jordan.
August 2009 – Takes part in launch of the Faiths Act Fellowship, bringing together young leaders from different beliefs in the US, UK and Canada.
Please click here to read full article
www.guardian.co.uk